The great Zen Master Dogen said if you are going to build a temple, build it to last for a thousand years!
April 15, 2017 was a magical evening as we moved into our new 6,300 sq. ft. Dharma Bum Temple. We are forever grateful to everyone that made it happen! Now our intention is to sustain the temple so all may continue to benefit.
We have turned an empty ninety year old church on the brink of being torn down into a thriving community. Sharing daily teachings of wisdom and compassion for free, we have touched thousands of lives since our arrival. Our operating expenses for 2018 are $75,000 and we are asking for your support to cover these costs. Donations are sincerely appreciated during this year-end fundraising campaign. Donate Today!
$67,234 of $75,000 Raised
Since moving into our new home, we have added many new classes and special events. We host meditation at 8
am
 Monday thru
Friday
in addition to classes every evening and some nights we have multiple classes. Our recovery programs have expanded, we built a Family Sangha so parents and kids can practice together and we continue our prison outreach and homeless outreach preparing food weekly. We have retreats, movie nights, special guests, singing bowl meditations, stories about the Buddha and his disciples and we hosted a wedding! Our college group uses the Temple for special gatherings in addition to us hosting the Open Heart Sangha and a new 12-Step Zen group.
Our Expenses:
Annual expenses include monthly payments towards mortgage, SDG&E, Water, Trash, AT&T, Insurance, Alarm System & Website. Our plan is to cover these expenses with this year-end fundraiser.
With your help, we aim to create a more vibrant Dharma Bum Temple!
The Buddha for You Gift Shop now inside the Temple continues to be a peaceful place of refuge for all who enter. The meditation hall next to the gift shop is filled almost daily with various groups using the space to find some peace and quiet. We are working on the completion of another meditation hall which will add more availability to the Temple.
Let's come together as a community...
Help us secure the future of The Dharma Bum Temple for many generations to come!
Donate Today!
Prefer sending a check? Mail to: Dharma Bum Temple, 4144 Campus Avenue San Diego, CA 92103

History and Future
Nearly eleven years ago a few of us had a vision of sharing Buddhism here in San Diego and The Dharma Bum Temple was born. All we wanted to do was create a safe and comfortable place to build a community. I believe we have far exceeded any expectations we may have had at that time. Our intention was pure and our practice came from nothing but the love in our hearts.
As the community grew, we talked about finding a larger place to call home so we could touch more people's lives. Most important in finding a new home was that the values and principals we hold to now do not change. 2,500 years ago the Buddha shared the Dharma without charge and this is a tradition that we deeply respect and practice. The Dharma Bum Temple does not charge for any classes and moving into our new location this has not changed!
Let's come together as a community...
Help us secure the future of The Dharma Bum Temple for many generations to come!
Donate Today!
May all sentient beings have the opportunity to hear, learn and practice Buddha Dharma.
May Buddhism help all beings realize their full potential and be liberated.
Please visit our new Dharma Bum Temple
We know you may have given earlier in the year to help us secure our new temple and you may also be a monthly donor and for all of this we thank you!  We hope you will consider a one time year-end donation!

The Dharma Bum Temple offers Introduction to Buddhism and Meditation Classes, Dharma Talks, Homeless Outreach, Prison Outreach, Kids & Teens Programs, Dharma Bum Life Program, Visiting Monks, Nuns & Buddhist Scholars, Silent Retreats, Residential Retreats, Morning Meditation, Meditation Classes in Spanish, Recovery Programs for Overcoming Addictions, Co-Ed Buddhist Fraternity, College Meditation Groups and More.
ALL FOR FREE!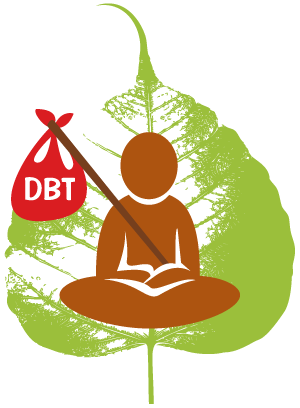 Dharma Bum Temple is a 501(c)3 Non-Profit Organization
All Donations are Tax-Deductible
Federal Tax ID # 27-1128167